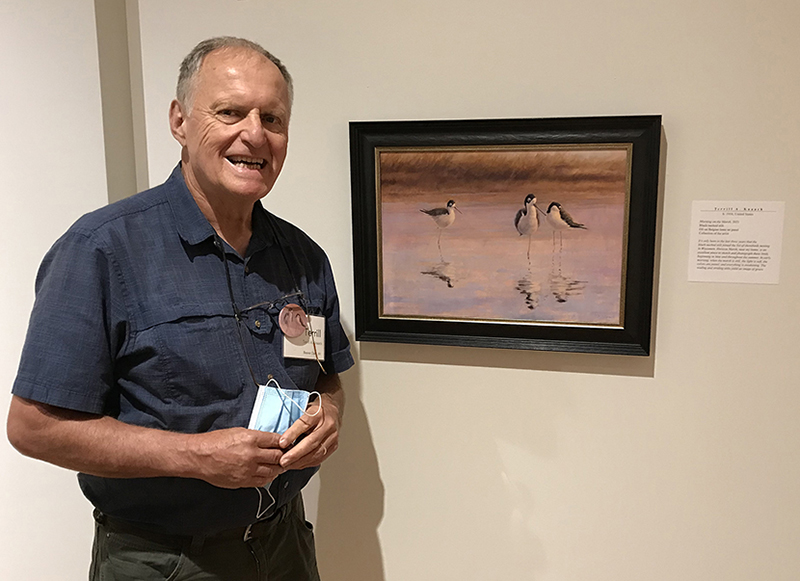 2021 Featured Piece in Birds In Art at the Leigh Yawkey Woodson Art Museum
Morning on the Marsh
Original - Oil on Canvas
It's only been in the last three years that the black-necked stilt joined the list of shorebirds nesting in Wisconsin. Horicon Marsh, near my home, is an excellent place to sketch and photograph these birds, beginning in May and throughout the summer. In early morning, when the marsh is still, the light is soft, the colors are pastel, and everthing is awakening. The wading and striding stilts yield an image of grace.
The 46th annual, internationally renowned, 2021 Birds in Art exhibition, was on display at the Leigh Yawkey Woodson Art Museum from Sept. 11- Nov. 28, 2021. Sixty of the 100+ pieces of artwork from the exhibition were then selected to go on national tour. Terrill's painting was one of the artworks selected. Locations on the tour include the Newington-Cropsey Foundation in Hastings-on-Hudson, New York, the Art Institute at the Arizona-Sonora Desert Museum in Tucson, AZ, the Bozeman Art Museum in Bozeman, Montana and the Rockport Center for the Arts in Rockport, TX.
The Woodson Museum is one of America's premier museums featuring contemporary art of the natural world, located right here in Wisconsin. For details on the exhibit, directions to the museum and museum hours, see www.lywam.org